What Our Patients Like Most About Our Pharmacy
We would love your feedback! Please let us know how we are doing and leave us a review below.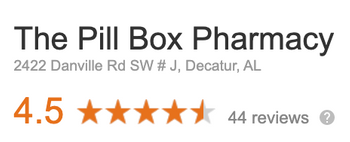 "Great staff. Wendy was absolutely amazing and took time with me to help me understand why I have been dealing with the problems that I have and reassured me that Catherine would be able to put together a compound for what I needed to get my hormone levels to where they need to be. They are the kind of people that the world needs more of and I am so grateful to them for what they have done for me!"

"They are the best! Personal, professional and very compassionate. I will never use another pharmacy again. My husband is on hospice and they go above and beyond to make sure that he has everything he needs and their delivery man is absolutely awesome and never complains at all even though he has to come to my home sometimes every day. I feel like they are going through this with us even though they mostly talk to us on the phone or in the drive through or when he delivers. I just wanted them to know that what they do is so much more than fill medicine.......thank you very much... I also want to shout out to the best delivery guy on earth, Jeff Stewart!!!"

"Love Pill Box Pharmacy their staff is absolutely amazing their prices better than anywhere else and if something cost a little more there than it does somewhere else is still better to go to pill box David Kidd the respect in the common courtesy that the staff gives you when they assist you with anything that you need!"

"I would be recommended them to everyone ! I wish I didn't have to move because I miss them! They were always so nice to me and never gave me Any problems the four years I was there. Lee the pharmacist is very informative and has always known the answers to my medication questions."

"These professionals really go above and beyond to help you with your questions, needs and educating you! Really great, fast service!"

"I love this pharmacy. The people are friendly whenever I go jn. They are quick and have never made a mistake."

"Nice staff, sometimes it is backed up( must be popular) I know for certain meds without insurance this is the cheapest place to get them. They also sell some awesome lotion called "2 old goats"

"Always helpful and caring staff. They work with patients to make sure they are getting the best medications at the best price."

"This hometown pharmacy makes you feel right at home... Excellent service and great hospitality."
We would appreciate your feedback to share on this page of our website. We'd like to let others know what our current customers have to say about The Pill Box Pharmacy of Decatur! Thank you in advance for your time and consideration.